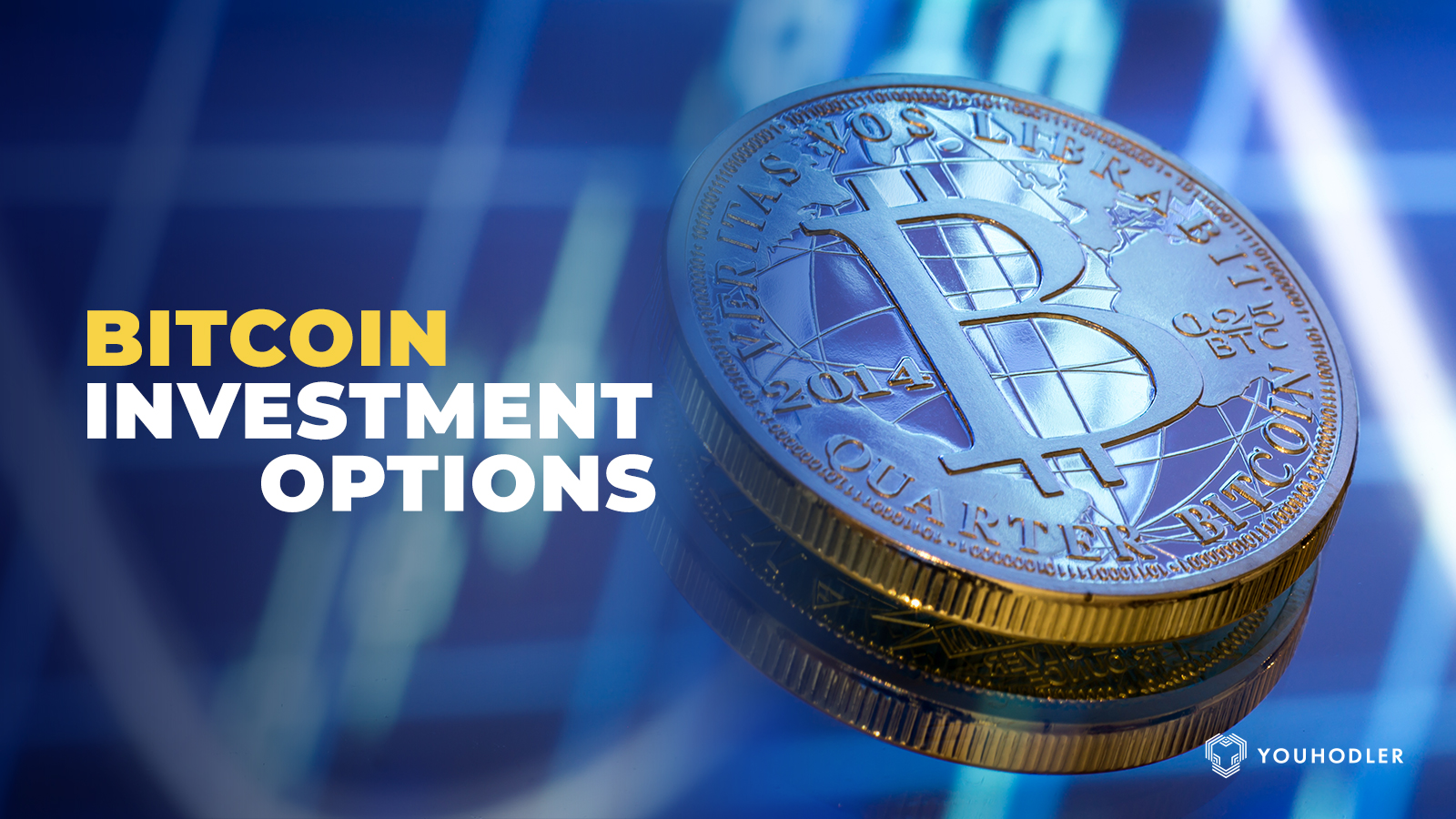 Start Making Money
5 Apps That Offer Bitcoin Investment Options
Bitcoin investing is becoming quite popular, not only among blockchain enthusiasts but also the wider population. Nowadays, it's hard to find someone who didn't at least hear about Bitcoin. For that reason, many people started investing in Bitcoin. They all want to buy a piece of the Bitcoin pie.
Therefore, the demand for trading apps has increased. Not only ha the demand for crypto trading apps has increased, but also regular investing apps that offer Bitcoin investment options. If you don't want to go through the process of choosing a secure crypto wallet, storing your private key, and transferring Bitcoin to this wallet, traditional investment apps are a good choice. For many users, this becomes an overwhelming experience, which withholds them from investing in Bitcoin at all.
This problem sparked a revolution in traditional finance apps that saw this increased demand for Bitcoin. Many financial applications, such as Robinhood, PayPal, and eToro, implemented options to buy Bitcoin quickly.
In most apps, users don't own the private key of their Bitcoin wallet. In fact, this isn't a big issue as they prefer the smoothness of buying Bitcoin via an app they already use to trade stocks or other digital commodities.
Now, this article presents you with an overview of five financial applications that have embraced Bitcoin. At the end of the article, we present you with three tips you should consider when choosing a Bitcoin investment application.
1. Robinhood
Robinhood is a popular investment app that offers you to buy Bitcoin, Ethereum, Litecoin, and many other available cryptocurrencies. The app itself was founded in April 2013 to provide everyone with access to financial markets, not just the wealthy. This slogan worked exceptionally well, and the app became one of the most popular investment apps.
In 2018, Robinhood launched its crypto offering to make its debut in the blockchain space. It was part of their plan to draw a lot of new, young investors to the platform. However, the app received a lot of backlashes. Robinhood doesn't allow investors to truly own their Bitcoin investment. This restriction also meant that Bitcoin investors couldn't move their Bitcoin to crypto savings accounts or use it to buy goods. In other words, their crypto investment is stuck in Robinhood's app.
In the end, many investors like how easy it is to buy Bitcoin via Robinhood. On top of that, many of them don't intend to move or use their invested Bitcoins.
Conclusion: Robinhood is a great app for quickly investing in crypto, stocks, and other commodities. Yet, you don't have control over your Bitcoin investment and can't move the investment to another crypto wallet.
2. PayPal
On October 20, 2020, PayPal launched their new crypto service. This crypto service enables users to buy, store, and sell Bitcoin and other cryptocurrencies.
PayPal adding crypto to its services provided a positive stimulus to Bitcoin's price as it broke the $12,000 mark. This announcement meant that PayPal's 26 million merchants got access to buying and selling Bitcoin.
From PayPal's Newsroom, we could read the following statement. "To increase consumer understanding and adoption of cryptocurrency, the company is introducing the ability to buy, hold and sell select cryptocurrencies, initially featuring Bitcoin, Ethereum, Bitcoin Cash and Litecoin, directly within the PayPal digital wallet."
However, only US-based account holders can access the newly offered crypto services. Yet, PayPal plans to expand its offering to other users as well via strategic partnerships. Unfortunately, users can only expect this service during the first half of 2021.
Conclusion: While PayPal offers crypto investment options (only for US users), you can't use crypto as a way to pay or send money on PayPal. On top of that, PayPal also doesn't allow you to move your Bitcoin investment to other crypto services. In other words, you don't have any control over your crypto wallet.
3. eToro
eToro has been the leader in the field of social trading. The app's key feature is the ability to copy other traders.
"The eToro platform features traders who want to be copied and who follow risk-control rules. This accessibility then allows retail account holders to mimic the trades and trading strategies of the most successful clients, automatically and in real-time." - Investopedia
Note that copy-trading might sound very appealing, but even professional traders can still make a mistake. There's no guarantee that you will grow your capital via copy-trading.
However, this copy-trading feature made eToro an ideal candidate to implement cryptocurrencies. By adding cryptocurrency support, a whole new set of professional crypto traders joined the platform and increased the existing users' exposure.
Conclusion: eToro allows you to invest in crypto and allows you to use their popular copy-trading feature for your crypto investment. On top of that, eToro is one of the few platforms that allow you to withdraw your Bitcoin investment to an external wallet.
4. Revolut
Revolut has become very popular as a fintech company that offers mobile app-based current accounts as an alternative to physical banks. Their financial application gained even more popularity as it allowed transferring money abroad in 29 currencies.
Revolut has been one of the early adopters of buying and selling crypto within financial applications. From December 2017, they allowed you to buy Bitcoin, Litecoin, Ethereum, Stellar Lumens, and many other popular cryptocurrencies.
Since August 2018, Revolut allows users to earn up to one percent cashback in cryptocurrencies. Yet, this option is only available to holders of the Revolut Metal card.
Conclusion: Revolut doesn't offer its users to transfer cryptocurrency to another external wallet. Again, that means that you don't have control over your crypto wallet using Revolut. Yet, it's a convenient application for transferring and exchanging money transparently while also accessing gold and crypto investment options at the same time. On top of that, Revolut's cashback program allows you to earn Bitcoin effortlessly.
5. Webull
Webull is a brokerage app that allows you to trade ETFs, stocks, and options. They've been a popular choice among traders as they don't have a minimum balance requirement and don't charge fees to open or maintain an account.
As of November 2020, Webull offers crypto trading to its users. You can now trade Bitcoin, Bitcoin Cash, Litecoin, and Ethereum.
Conclusion: Webull doesn't offer traders the ability to withdraw or deposit crypto their Webull account. On top of that, they don't support many different crypto assets.
Tips When Choosing a Bitcoin Investment Application
When choosing an application for investing in Bitcoin, make sure to evaluate the following criteria:
Self-custody: It means that the platform generates a crypto wallet for each user and provides the user with the private key of this wallet. Many Bitcoin investing applications prefer to use custodial wallets where the user has no control over their funds. Users can't transfer their Bitcoin to other services or can deposit crypto to the application.

Security: Ensure that the application you're using provides plenty of security options. First of all, you need Two-Factor Authentication. Furthermore, make sure that you can enable login notifications so that the platform whenever someone logs in on your account.

Insurance: It's worth taking a look at the insurance terms that applications provide. What happens to your crypto investments when the company goes into bankruptcy? It might sound like a small detail, however, this detail is essential when you consider long-term investing in Bitcoin.
If you consider long-term investing in Bitcoin and want to enjoy multiple security measures, such as insurance coverage, take a look at YouHodler's platform.

YouHodler provides fiat gateways so you can buy Bitcoin and other currencies directly from the platform. On top of that, you earn 4.8% yearly interest on your Bitcoin holdings without having to do anything at all.
Share with friends
Related tags
Published on
22 February 2021
More posts