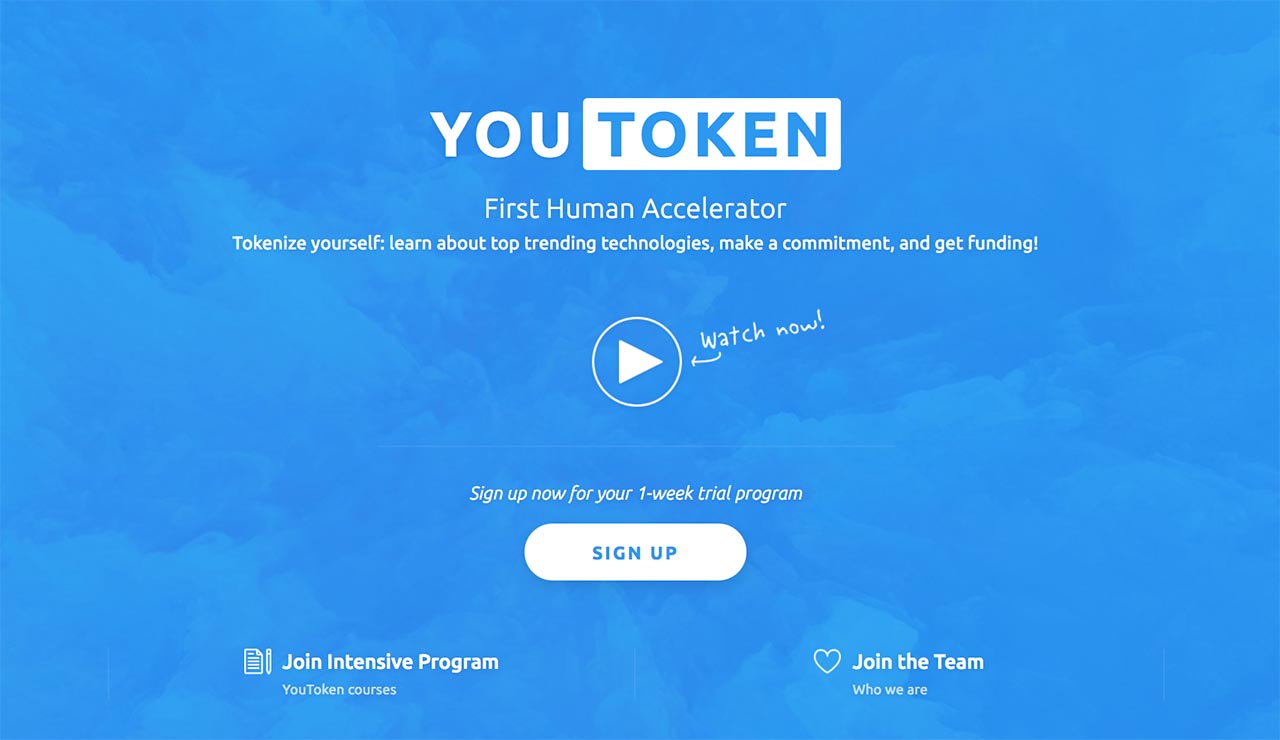 Keep Your Wealth, Prestige and Reputation
YouToken to Destroy Coursera and Help You Accelerate
There was once a time when learning was a gift bestowed upon the community by some of the world's greatest teachers. It helped us develop as a society and unlock new doors we never knew existed. Today, the landscape is much different. Universities are no longer places where great minds come to challenge each other's beliefs and learn from the experience. Instead, they are finely tuned businesses that sell knowledge as a product and use it as leverage for your future success. For that reason, many people are starting to self-educate. We can't afford to go into endless debt for a degree anymore. That's why sites like Coursera are becoming so popular. We live in a DIY age where the Internet is our tool of choice. If you're looking to expand your mind and prepare for something greater in the future, then perhaps it's time to take matters into your own hands. YouToken, the first "human accelerator," is an excellent way to do this. Here's how it works and why it will change the way you learn forever.
THE FALL OF COURSERA AND THE RISE OF YOUTOKEN
Like the universities it sought out to replace, Coursera was once a free learning tool. Its mission was not to turn a profit on learning but to simply inform and help society. Over the years, however, that's changed. Recently, the site removed many of its free courses, and the trend looks to continue. Combine that with constant complaints of the overall platform by users, and you have a gaping hole that needs to be filled. That's where YouToken comes in. They describe themselves as the "first human accelerator." For all those times you thought you had the potential to improve yourself but lacked the resources, here is your answer. By "tokenizing yourself," you'll learn about all the top trending technologies while making a commitment you are proud of and receiving funding for your future.
HOW COURSERA WORKS VS. YOUTOKEN
Like its name suggests, Coursera is all about the coursework. Each course is like a textbook that includes videos, quizzes, and longer-term projects. Furthermore, you get access to a community of other learners where you can share ideas, talk about the course material, and get help from "experts." After completing your course, you are awarded a certificate that allows you to share this achievement with employers, friends, and colleagues. However, after you receive your funding, that's the end of the road. Don't you wish there was more? Well, with YouToken, there is.
HOW YOUTOKEN WORKS VS. COURSERA
See, Youtoken is more than just a "certificate machine." You don't just sign up, complete the assignments, and then leave with a certificate in hand. The key to their mission statement is all about improving the person. By the end, you'll not only leave with more knowledge than when you came in but also with a new identity—an identity that serves as a building platform for your future.
BUILD YOURSELF WITH YOUTOKEN; DESTROY YOURSELF WITH COURSERA
YouToken applies business acceleration and crowdfunding models to individuals like you. Think about it. Your main asset is not money or a business. The main asset is you. Your personality, your talents, and your commitments are your best tools when it comes to building a successful future. With this course, you'll learn to utilize these tools in the most effective manner. Coursera, on the other hand, will leave you with some nice facts that might help you land a job, but it won't transform you into a better person.
HOW YOUTOKEN PROGRAMS ARE MORE EFFECTIVE THAN COURSERA
The YouToken programs are designed to help you get new, insights on modern technologies. They will also help you learn about practical tools and which ones are the best for your individual personality. Above all, you'll learn to master your skills. But it doesn't stop there. Once you learn, you're ready to put those ideas into action.
YOUTOKEN HELPS YOUR FUTURE MORE THAN COURSERA
A degree from Coursera is nice, but that's where Coursera stops working. From there, it's up to you to make the most out of that degree. YouToken doesn't leave you hanging. Using their smart contract engine, you receive funding for your idea and get the chance to put that idea into action. It's not just a learning platform, but a way to make a change in your knowledge.
YOUTOKEN: A NEW AND MORE EFFECTIVE ACCELERATION PLATFORM THAN COURSERA
Essentially, YouToken worked hard to fill in the holes that Coursera leaves for its users. They constructed an entirely new and effective human accelerator system that lets users become aware of all the latest technological trends. Furthermore, it teaches them how to profit off of them. You're not just reading a book and going home. You're reading a book, going home, and putting those ideas into action. As a result, you profit in a monetary and personal way.
YOUTOKEN VS. COURSERA: SOURCES YOU CAN TRUST
Much like Coursera, YouToken partners with reputable institutions so you get information that you can trust. For example, they constantly monitor modern technology trends and update them in their personal development program. Furthermore, they partner with the world's best fintech companies to help keep the course up to date. Ultimately, the goal is to keep you informed at all times.
YOUTOKEN MORE PERSONABLE THAN COURSERA
While you can choose what to learn with Coursera, whichever course you pick is the same for the thousands of other "classmates." However, YouToken has personalized content. You won't be learning exactly what everyone else is learning. Instead, the content adapts to your individual talents and needs. Using AI, the acceleration program can adapt and scale to your personality.
YOUTOKEN VS. COURSERA: FIND THE REAL YOU
When you take a Coursera course, they don't care about your needs. They are not interested in making you a better version of yourself. However, the very first step YouToken takes is helping you is finding your goals. The modern world of advanced technologies is a big one, and finding your personal goals within it is not always easy. However, the human accelerator will help you unlock your talents and navigate the complex pathways of the technological spectrum.
YOUTOKEN VS. COURSERA: BECOME PART A COMMUNITY
In the old days of Coursera, users always praised the platform for its vibrant and helpful community. However, over the years, this community began to disintegrate. YouToken creates a more sustainable community. Since each member learns differently, with practical tools tailored to their own personality, the community as a whole becomes stronger and more effective. As a result, you are never alone, and your actions are made stronger by those around you.
YOUTOKEN VS. COURSERA: MAKING A COMMITMENT TO YOUR FUTURE
Don't just make a commitment to finish a course and get your degree like you would with Coursera. Make a commitment to your future. Using your own ideas and skills, think about what you want to accomplish in life and how you want to do it. From there, you can work with the human accelerator to accomplish these goals and build yourself and your career. Many people fear commitment like this, and for good reason. It can be daunting, but with a little help, you'll easily blow past obstacles and accelerate into the future you know you're capable of creating.
Share with friends
Related tags
Published on
15 December 2017
More posts