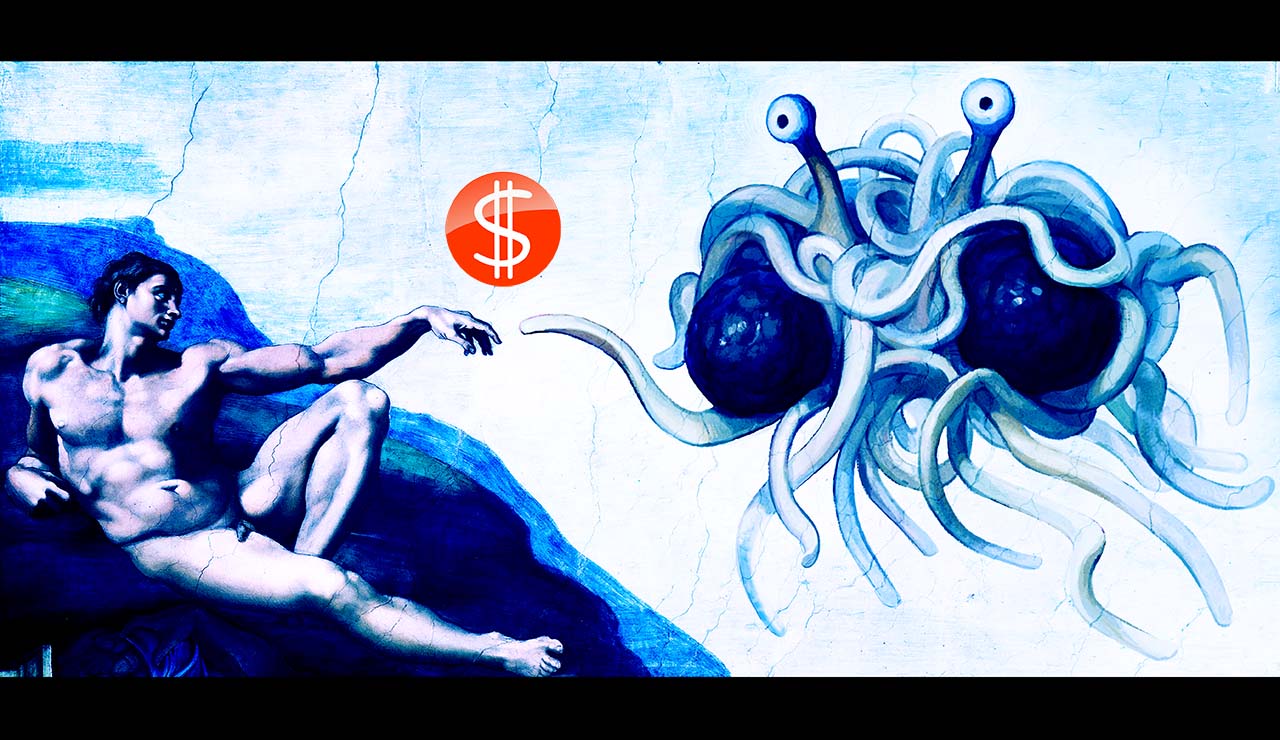 Start Making Money
Pastafarian Church of the Flying Spaghetti: How to Make Money Off Of Floating Pasta
Religion is a big business. Just think about all those "super preachers" out there making millions off their mega-churches. It's a lucrative business and you need to be a little iffy on your ethics to take part in it all. However, if you still want to make money off religion but not ruin the lives of your followers, consider becoming a Pastafarian. Pastafarianism is a light-hearted approach to religion and yes, they turn a profit.
HOW A PASTAFARIAN MAKES MONEY FROM THEIR CHURCH
First of all, you should know, becoming a Pastafarian is not about making money. It's about spreading the word of Pastafarianism. For those that don't know, this is a humorous social movement that fights against the teaching of creationism. If it sounds like a joke to you, it's not.
Pastafarianism is a legitimate organization and religion. In fact, in New Zealand and the Netherlands, it's officially recognized as a religion. What started out as a humorous protest in 2005 by student Bobby Henderson quickly transformed into a global movement. But will it make you rich?
PASTAFARIAN SELLS CHURCH MERCH TO MAKE MONEY
Imagine if you showed up to church and there was just a big table out front selling all sorts of merch like a rock concert or something. That's a joke but there are probably a few crazy people with Joel Osteen shirts. You know you're out there. Anyway, a Pastafarian actually does make money off this method. You can buy car emblems, t-shirts, books and more to support your new favorite god. Also, like any good religion, this one accepts your kind and loving donations.
START YOUR OWN PASTAFARIAN CHURCH TO MAKE MONEY
Is there a Flying Spaghetti Monster organization in your town or city? No? Then this is the perfect opportunity to set up a new chapter. Or better yet, why not just start your own religion? That Scientology guy did it and he made billions of dollars. Hence, just write a creative Sci-Fi novel and you're already most of the way there. Then, you just need a loyal following to give you cash and you'll live the rest of your life on easy street. Furthermore, you are doing the world a kind an loving service. Well, not really but if you can, believe anything you want.
Share with friends
Related tags
Published on
9 October 2017
More posts